Once you finish designing your website second step is getting visitors to your blog or website. Search engine optimization plays very big roll into it.
Search engine optimization is a technique that allows a website to get more visitors from search engines like Google, Yahoo, Bing, altavista etc.
Important part in making search engine friendly website is
Page title is very important part in SEO it is added into title tag. <title>Your Page</title>
Meta Description
Meta Keywords
Meta description and meta keyword is not major facter search engines consider when they rank sites but it plays very big role by telling crawling robots about page and its content.
The meta description tag looks like
<meta name="description" content="details about your page.">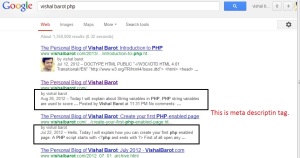 <h1>,<h2>, <h3> <b> ,<i> etc are the header tags.
Header tags is easy way to help your website visitors by using bold, italic tags with the help of this tags users can notice important items from your page.
Link structure is about page depth, Internal links, back links to your site! Suppose you website has imporant page,But If it take 5-6 clicks to reach there which gives bad impression and remains hidden most of the time. You should try to optimize site in a such way that visitors can access webpage with maximum 3 to 4 clicks.
to know more in deep you can use Search engine optimization starter guide by google!
click here