Google chrome is one of the best browser available today, And almost all people uses it. We like Google chrome becuase it is very simple to navigate, It is light and works fastest compare to other browsers.
Aside of its plus point Google chrome has a very weak point and I guess thats the reason why you are reading this post!
Google chrome creates new thread of each new process thats the reason it use alot of cpu and memory. Which makes our pc to run slow sometimes even it causes crash/freeze/hangs.
So now If you want to control the usage of memory and cpu than first you will have to find out the process google chrome is doing.
Just like windows task manager Google chrome has its own task manager
"Task Manager – Google Chrome "
Which can be open by pressing "Shift+Esc" Here you will see all the running process of Google Chrome.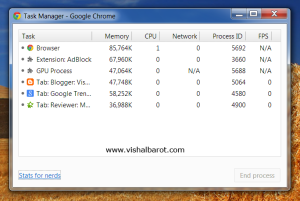 By removing extension, tab which you are not using you can control the memory usage.